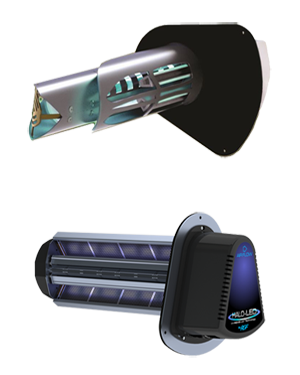 You can now reduce common allergy triggers from particulates such as pollen, mold spores, dander and dust. Thoroughly tested on airborne and surface bacteria & viruses, such as MRSA, e-coli, and Norwalk, to name a few. Say goodbye to odors from cooking, pets, dirty socks, diaper pails, and musty rooms.
REME HALO® In-duct Air Purifier
The award winning REME HALO® whole home in-duct air purifier is the next generation of indoor air quality (IAQ) technology and capable of purifying every cubic inch of air that your central air conditioning system reaches. Designed to eliminate sick building syndrome risks by reducing odors and air pollutants, the REME HALO® whole home in-duct air purifier is the best solution for whole house and building air purification.
HALO-LED™ Whole Home In-Duct Air Purifier
The HALO-LED™ is the industry's first LED in-duct, whole home air purification system that is both mercury free and zero ozone compliant. The HALO-LED™ proactively treats every cubic inch of air conditioned space, reducing airborne and surface contaminants and pollutants through bi-polar ionization and revolutionary, patent pending, REME-LED™ technology.
Air Purification Product Offering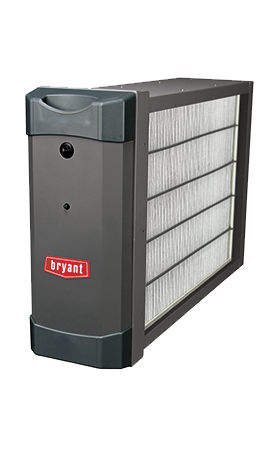 Evolution® Air Purifier
View Brochure
Model Family: DGAPA
Filter efficiency: MERV 15 filtration captures up to 95% of particles
Germicidal rate: Kills or inactivates up to 99% of germs captured
Warranty: 10-year parts limited warranty upon timely registration
Manufacturer's Stated Benefits:
Patented Captures & Kills™ technology
Can clean up to 100 times more air than portable units
Proven effective against 3 common pathogens: human influenza common cold surrogate Streptococcus pyrogenes
Narrow cabinet design for easier installation in tight spaces
Helps protect heating and cooling equipment

Preferred™ EZ-Flex Filtration System
View Brochure
Model Family: EZXCAB
Filter efficiency: Captures up to 65% of particles 1.0 to 3.0 microns in size
Germicidal rate: MERV 10
Warranty: 10-Year Parts Limited Warranty
Manufacturer's Stated Benefits:
Captures up to 65% of particles 1.0 to 3.0 microns in size
Helps protect heating and cooling equipment
Deep pleated filters hold more dust for fewer filter changes
Easy to replace filters